China's Science andTechnology Innovation Highland ZOL National Independent InnovationDemonstration Zone recently issued a notice on the results of the technicalreview of the first major technical equipment test and demonstration projectsin ZOL in 2019. 77 projects in a total of 73 enterprises were reviewed byexperts. HHE`s 500 kW flywheel energy storage UPS power supply vehicle projectselected in 2019 ZOL first set of demonstration project list.
The Major technology relates to the comprehensive nationalstrength and the national security. The first (set) major technical equipmentrefers to the equipment products that have achieved major technologicalbreakthroughs in China, have intellectual property rights, and have not yetachieved market performance, including top three set or batch complete sets ofequipment, complete equipment and core components, control systems, basic materials,software systems, etc.
Our governments at all levels have always attached importanceto the support of the first set of major technical equipment, so as to promotesupply-side structural reform, implement innovation-driven developmentstrategy, and build a strong manufacturing power decision-making arrangement,take the first set of demonstration applications as a breakthrough point, andpromote the overall improvement of the level of major technical equipment.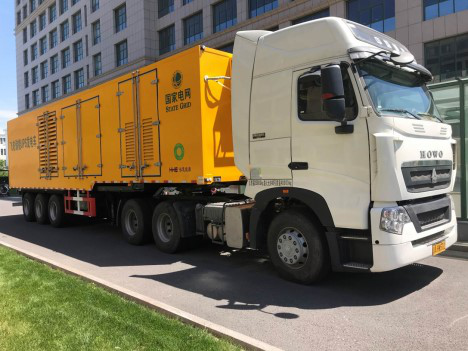 500 kW Flywheel EnergyStorage UPS Power Supply Vehicle
Atpresent, there are a lot of power quality problems in power supply grid, suchas voltage fluctuation, peak burr, flash break, harmonic and so on, which cannot guarantee the efficient and reliable operation of some electric equipmentwith high demand for power quality. The traditional diesel engine power supplyvehicle can not monitor and compensate the power quality in real time, and cannot provide high-quality power supply without interruption quickly and reliablywhen the power grid fails or fluctuates greatly. It will take more than 15seconds for diesel generator set to start and complete with load after powergrid failure, which will inevitably lead to the power outage of key powerequipment, such as conference lighting, monitoring, security system, etc.,which is likely to cause irreparable serious consequences and losses. Becausethere is no uninterrupted switching function, the traditional diesel enginepower supply vehicle needs the diesel engine to keep running all the time whenit keeps power, and a large amount of diesel oil consumption will cause hugeeconomic losses and environmental pollution.
HHEresearch and development of flywheel energy storage UPS power supply vehiclecan provide real-time and efficient uninterruptible emergency power supply forall kinds of important power saving scenarios, and the flywheel UPS power supply vehicle system also has unique featuresof small area, flexible networking, plug and play, uninterrupted switching,high reliability. Flywheel UPS power vehicle is equipped with high powerflywheel energy storage system, which can monitor and purify the electricenergy of power grid in real time, and does not need to start diesel generatorat ordinary times. During the short time failure or large fluctuation of thepower grid, the flywheel energy storage UPS power supply vehicle can providetimely energy compensation and purification to the power grid, and realize theoutput stability. During the long time power grid failure, the diesel generatorequipment is quickly started to supply power through the intelligent ATSswitching equipment and intelligent software control, and the uninterruptedconversion is realized under the aid of flywheel and the perfect power qualityguarantee when the diesel engine is supplied. Throughout major conferences orevents, core equipment is consistently protected by the highest quality powersupply.